Getting a new trainset takes around four years, from when the decision is made to invite tenders for new trains until the first vehicle is delivered. If we are to have new local trains in 2024, the decision must be made in 2019.
While 2017 was a start-up year for Norske tog, 2018 has been the year when we really got into our stride with many of the projects that will shape the years ahead.
One important project has been assisting in the tender process for the Sørland Railway, with the tender awarded to the UK train operating company Go-Ahead. Norske tog will assist Go-Ahead in the start-up period until the trains go into operation on the line. This is the first agreement entered into with a new train operating company since the Norwegian Railway Reform was enacted and marks an important milestone – both for the rail network and for Norske tog.
2018 was also the year when we were "sold out" of new trains. By triggering the final option for new FLIRT trains from Swiss manufacturer Stadler, we will eventually have 150 FLIRTS in operation. The Minister for Transport attended the celebrations marking the handover of the 100th train in August last year. By the end of 2018, we had taken delivery of 105 FLIRTS, with the remaining 45 scheduled for delivery over the next four years. These trains have already been allocated to specific lines, so new demand will require new purchases.
Digitalisation of signalling systems
Another milestone achieved in the course of the year was the agreement we entered into for delivery of onboard equipment for the new, digital ERTMS signalling system. ERTMS is probably the most important initiative in reducing signalling errors and increasing punctuality on the rail network. As the system is rolled out, it will also contribute to increased capacity on the railway, paving the way for self-driving trains in the future.
The ERTMS technology has already been tested on the Eastern section of the Østfold Railway. The experience gained and feedback received bode well for what we can expect as the signalling system is rolled out towards 2030. In total, Norske tog will invest more than NOK 1 billion in onboard equipment to adapt the trains to a new, digital world.
Improving existing trains
In 2018, we implemented a number of projects of varying scope, all of which are important in meeting the expectations made of us by our customers and milieu.
We repaired cracks on old trains and issued a call for tenders for mobile signal boosters to improve mobile coverage on the trains. This is part of an important up- grade to meet passenger requirements for digitalisation and better access to communication solutions on trains.
Norske tog wants to contribute to making the railway even more climate friendly. One exciting climaterelated initiative involves developing new, retrofittable engine technology for diesel trains, which could potentially help to reduce consumption and emissions by up to 20%. Our contribution consists in developing a prototype for our Class 93 trainsets. While we will deploy this technology on diesel trains in Northern Norway, the technology has global potential, which can also contribute to climate improvements in other places around the world.
Strong passenger growth generates a need for new trains
Traffic growth in recent years has outstripped the forecasts made in the Norwegian Railway Directorate's 2015 perspective report. This growth looks set to remain at the same high level, with continued population growth in the high-demand areas and more people choosing to travel by train.
But with growth on this scale – and a large part of the vehicle fleet ripe for replacement – comes a great need for new trains. At current growth rates, it is not inconceivable that we will need two new trainsets every single month for the next 30 years.
Without new purchase agreements, within a few years we will have no extra trains to deploy to meet the increased demand. Even if new infrastructure enables frequency and services to be increased, we could find ourselves in a situation where we do not have enough trains to deploy without this having consequences for the service on other lines – unless decisions to purchase new trains are made in 2019.
And time is beginning to run out. Getting a new trainset takes around four years, from when the decision is made to invite tenders for new trains until the first vehicle is delivered. If we are to have new local trains in 2024, the decision must be made in 2019.
No doubt there are people who think Norske tog should work more quickly, but in reality this is not possible. One important reason why the projects take a long time is clarifying and securing financing prior to issuing a call for tenders, and drawing up specifications that ensure the best possible standardisation of trains, taking into account the special conditions pertaining in Norway.
It takes roughly a year to specify a tender for new trains, then roughly just as long is spent on the bidding phase until a contract is signed with the manufacturer. After this, the manufacturer will spend about a year on engineering and preparing to start up production, one year on production of the first trains, and another year on testing and approval.
If trains have to be adapted, this entails higher initial costs for the supplier. In Norway's case, this means it makes sense to place relatively large orders in order to reduce the unit costs, and ideally with extensive options so as to contribute to standardisation and flexibility for growth.
The right trains at the right time
I'm choosing to focus on this challenge now because it goes to the heart of what will always be our big challenge: ensuring, at all times, that we have the fleet of trains needed to realise the full potential of the rail network. We have to do this as cheaply and efficiently as possible, which means focusing on the highest possible degree of standardisation of both new and existing trains. Today, we have a total of 17 different types of train. It goes without saying that there is much to be gained from a greater degree of standardisation.
Overall, we are very satisfied with what we have achieved in 2018. We have completed and initiated a number of important projects. We have established good collaboration with other players in the railway industry. We have made a constructive contribution to the competition process for operation of the Sørland Railway. In addition, we have achieved solid financial results, a satisfactory return on equity and a particularly good credit rating. This is good for us – and good for our customers.
Norway's railways are in a rapid development phase. We have an important role to play in helping others to succeed, so that even more people choose to travel by train. This is what motivates us to go the extra mile every day. We look forward to continuing the good but challenging work we have started.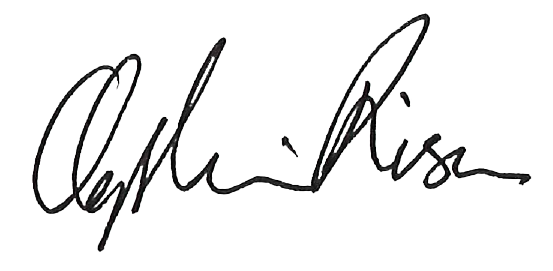 Øystein Risan
CEO
Top